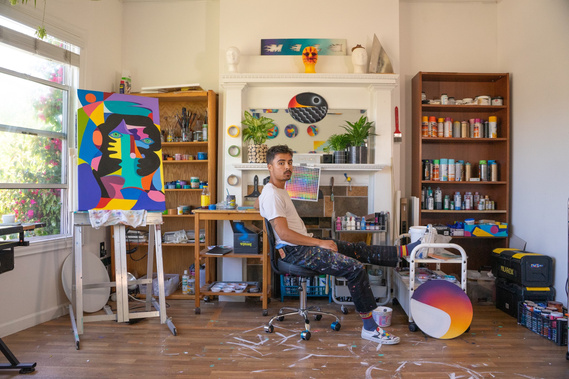 Artist Bio​:
Mila Moldenhawer is a visual artist who often works under the pseudonym, "Dadadoodles". Born in 1996 in Berkley, CA to Indian and polish immigrants, Mila now lives and works in Oakland, CA. As a first generation American, and a trans-man, mila went on to study Art Practice and Sociology at UC Berkeley, graduating in 2020. He has since become involved in illustration, painting, tattooing and make murals for a variety of clients big and small. Mila works across multiple mediums, maintaining a malleability of mind and material dexterity. Recognized by his synthetic-graphic- aesthetic, uncanny figures and flamboyant use of colors, mila bends and blends the boundaries of figuration and abstraction.
Curriculum Vitate
Mila Moldenhawer
b.1996 Berkeley, CA.
Based in Oakland, CA.
​
EDUCATION
2021 | B.A. in Art practice and Sociology from University of California Berkeley
​
SOLO EXHIBITIONS
2022 | Intero-motion - Ale Industries, Oakland, CA.
2022 | Orbits - Common Space Gallery, San Francisco, CA
GROUP EXHIBITIONS
2022 | RisenFall -Warehouse 416, Oakland, CA
2022 | TV Dinner- Two Cats Gallery, El Cerrito, CA
2022 | 36th Annual Emeryville Art Exhibition, Emeryville CA
2022 | Jeweled Rice- Crisis Club Gallery, Oakland CA
2022 | On Mamas- Good Mother Gallery, Oakland CA
2021 | BARE Magazine - So-so, Berkeley CA
2021 | Nosei x Mizu Market- Soba Ichi, Oakland CA
2021 | MUSA - Magnolia Brewing, San Francisco CA
2019 | Smart Bomb- The Legionnaire Saloon, Oakland CA
2019 | Small talk Studio - Classic Cars West, Oakland CA
2019 | Superb - The UC Theatre, Berkeley CA
2019 | Re-sensitizing - Worth Ryder Gallery, Berkeley, CA
2019 | Night of Cultural Resistance- Multi-Cultural Center, Berkeley CA
​
​
PUBLIC WORKS
2022 | Good to eat Dumplings- Seawalls, Pangeaseed Foundation, Emeryville, CA
2022 | The Midway, San Francisco, CA
2021 | The Rare Barrel Brewery, Berkeley, CA
2020 | Youth Spirit Artwork, Tiny Home project Oakland, CA
​
AWARDS/FELLOWSHIPS/GRANTS​
2021 | Art Practice Departmental Excellence in Painting, University of California B
2020 | Undergraduate Honors Studio Program, University of California B​
​
PRESS
​
2022| The Oakland Side | https://oaklandside.org/2022/08/09/oakland-events-laurel-street-fair-and-more/
2022| The Midway | https://themidwaysf.com/exhibits/mila-moldenhawer-at-the-midway/
2021| Hardedger| https://hardedger.com/the-colorful-art-of-mila-moldenhawer-aka-dadadoodles/
2021| Berkeley Side | https://www.berkeleyside.org/2021/07/08/rare-barrel-beers-masses-enssaro-berkeley
2021| BAMFEST | https://bampfa.org/event/bamfest-2021